[threecol_one_first]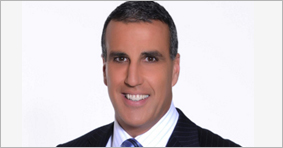 JUDGE ALEX is a sought-after speaker who, through his true-life stories, inspires audiences to pursue the American Dream. In inspirational keynotes, he shares humorous anecdotes on his road to success as well as his secrets to getting there: education and perseverance. By believing that anything was possible and by never giving up, he reached his dreams—and you can too.
[button size="medium" color="gray" style="none" new_window="false" link="/?page_id=449″]continue reading[/button][/threecol_one_first][threecol_one]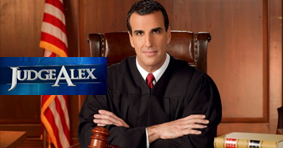 Voted the most trustworthy face in daytime television, former police officer, attorney and Florida Circuit Court Judge Alex Ferrer hosted "Judge Alex," the highly rated court room strip from Twentieth Television, for 9 years across 96% of the US.
[button size="medium" color="gray" style="none" new_window="false" link="/?page_id=499″]continue reading[/button][/threecol_one][threecol_one_last]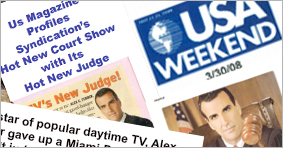 Fame & Fortune TV's Judge Alex Ferrer
Education is the Key to Financial Security
By Larry Getlen • Bankrate.com
[Read More]
Miami Living
All Rise for Judge Alex
By Vanessa Pascale
[Read More]
[button size="medium" color="gray" style="none" new_window="false" link="/?page_id=447″]continue reading[/button][/threecol_one_last]